Description
Clutch Cable kit 1969-70 Mustang/Cougar
Currently, these items are on backorder and have an ETA of Early to Mid-July
A Modern Driveline clutch cable kit is the perfect solution for T-5 and TKO cable-operated bellhousing conversions.  
Using the stock clutch pedal, a bolt-on adjustable pedal bracket provides the pulling action without welding.
The firewall plate mounts behind the brake master or factory brake booster.  The firewall is equipped with an easy-to-access adjustment that requires no tools.
The clutch cable is not 'just some fox body cable', but one specifically designed for the early Mustang to fit ahead of the exhaust that then follows the oil pan flange. The cable housing is kept in place with mounting hardware using one of the oil pan bolts. Then connected to the cable fork with a fully adjustable rod end.
NOTE:
This kit works with Pull style clutch forks only
It will not work with a push style clutch fork
This kit works with OE Bendix 8″ booster.   It will not work with Midland brake booster (band clamp) and certain aftermarket 8″ and larger brake boosters.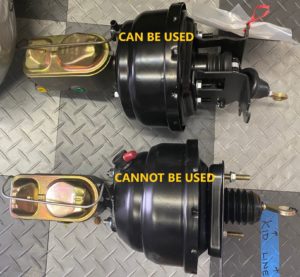 ⇐  Can be used
⇐ Can not be used