Description
1964-1967  / 1968-1972 Pontiac GTO – LeMans Tremec TKO600 transmission conversion package
Modern DriveLine has kits for the customer that already has usable 3 or 4 speed Muncie or Saginaw transmission components in their  GTO.
This kit allows you to use your existing 166 tooth capable bell-housing, flywheel with 11″ clutch pattern, stock clutch pedal and mechanical clutch release.
You will also use your existing transmission cross-member.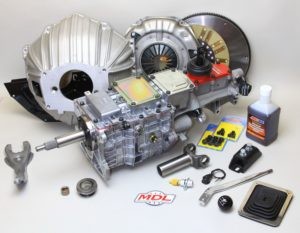 Tunnel modifications are required and the sheet metal tunnel patch is included in this kit
Whether you are converting from Auto to manual or just wanting an upgrade, we have a solution for you.
We can supply everything you need from the back of the block to the driveshaft.
You get all the parts you need and none you don't.
All backed by the industries best 2-year warranty from

 MDL 'starting from date of install.'
Lifetime Tech Support on all MDL
You will need to select a clutch matched for your horsepower & use. Need Help… give us a call.
We will use any existing parts you have that we can… there's no need to buy new if you don't have to.
You will have to select a clutch matched to your horsepower & use.

Solutions are TAILORED to your needs with many or all of the following:
TREMEC 5 or 6-Speed Transmission with Shifter
All Fastening Hardware including ARP
Aluminum or 'QuickTime' Steel Bell-housing
Superior Diaphragm Clutch or McLeod or Tilton Twin-Disk matched to your horsepower and usage.
Modern Driveline U.S.A. made Lightened Billet Steel Flywheel
S. made Steel Cross-member
Transmission Mount
Wiring Harness & Plugs
Shift Ball & Lever and Boot
Hydraulic Master and Slave clutch linkage
Synthetic Automatic Transmission Fluid
High-Speed Precision Balanced Aluminum or Steel Driveshaft
Detailed Installation Instructions and Lifetime Tech Support
The MDL conversion packages are as complete as possible.
You get ALL the components you need where competitors packages provide only the basics.
When comparing costs be sure you are comparing apples to apples on the contents, quality & after the order service.
Components are IN STOCK.
Click or call for a customized Quote for your Requirements.
  208-453-9800