Description
68-82 C3 Corvette Tremec TKO600 Five Speed Single Overdrive Transmission (.64 OD)
MDL modified TKO600 for the Corvettes serves up 600 lb-ft of torque capacity, along with confidence-inspiring shifts and fuel-saving overdrive, the TKO offers an ideal blend of brute strength and street manners – which may be why more Corvette owners are choosing the MDL Side shifted TKO as the 5-speed manual transmission than all of its competitors combined.
Based on the 3550 family of five-speed, Tremec up the game in 2004 by offering TKO600 close-ratio five-speed to replace the "TKO" as the top dog. For those that have 3.50:1 axle ratio or higher ratios the TKO600 with its 2.87:1 first gear and .64:1 (36%) 5th overdrive will provide hard pulling acceleration on the road course or just reduced amount overdrive depending on your cam profile. If you are making over big power or play hard in the first four gears and want to cruise home in overdrive, the TKO600 is the transmission for you.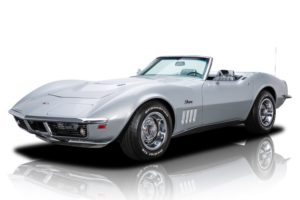 Experience the MDL difference
We extend the manufacturer's warranty by an extra year… and that's from the date of install.
We offer the best in the industry customer service.
When you purchase a complete MDL Conversion Package you get, life-time technical support.
Product benefits
C3 Low profile side shifter for an OE fit
Close gear ratio (2.87, 1.89, 1.28, 1.00, .64) high-performance applications Rated at 600+ft/lbs
Multi shifter location to customize the fit.
Uses the same bolt pattern as Ford "Toploader" bellhousing.
Ford Mechanical gear and analog speedometer drive built-in.
Robust transmission design with internal 3-rail shift system with cast iron shift forks
Tapered roller bearings on input, output, and counter shafts improve performance (reduced noise factor).
All gears and shafts made from special grade steel (ASTM 4615) that permits increased torque carrying capacity
Single-piece countershaft that better handles increased torque carrying capacity
Cruise control Neutral safety switch and back-up light switch
31 spline output shaft for added strength.
Reduce engine rpm to a level that makes it fun to drive besides enhancing the fuel efficiency

Hover over images to enlarge


SHOP CORVETTE CONVERSION PACKAGES