Put a "better" overdrive transmission behind your Ford Flathead.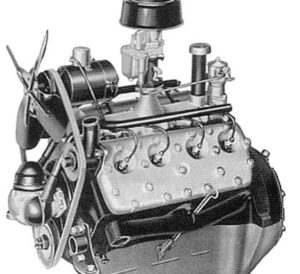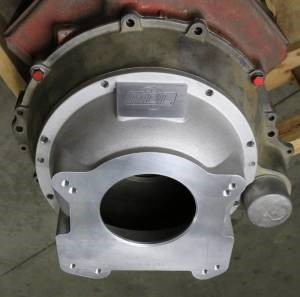 Flathead overdrive begins with the adapter.
The MDL Flathead bell adapter, made as a direct fit for the 59 series blocks, while also mating to the intermediate ring on the 8 series flatheads, allows you to install a "better" transmission than an S-10 take-out. Flathead engines produce significantly more torque than a 4-cylinder transmission can handle.
Upgrading to the MDL adapter allows the use of a V-8 Fox-body Mustang transmission or the even better gear set found in the new T-5z that MDL offers. Looking for even more capacity?
The bell is also compatible with the TKO 5-speed series.
MDL engineered Ford Flathead adapter is designed for a wider range of transmissions than previous adapters, the MDL Ford Flathead adapter will ease the task of adding an overdrive transmission to your Flathead project.
Compatibility to blocks from 1932 to 1950, coupled with adaptability to Ford T5's and TKO's insures we have a 5-speed overdrive solution to move your Street Rod, or any Flathead based project, down the road in comfort and style.
It's not just an adapter.  We offer complete kits for the adapter with forks, bearings, and cross shafts, to full solutions with transmissions, clutches, flywheels, and the whole enchilada.
Check out the details below and give us a call or send us an email for a complete solution for your project.
Call us:  208-453-9800
Key Features
·         Improved adapter over existing adapters
·         Compatible with
  1932-1948 Ford Car
  1949 Truck
  1949-50 Mercury Car
·         Direct fit to 59 Series blocks
·         Direct fit to 8 series intermediate ring
·         Compatible with modern diaphragm clutches
·         Adapts to Ford T5 or Ford TKO
·         Compatible with original mechanical clutch linkage or hydraulics
·         Complete kit includes a shaft, fork, throwout bearing, and alignment ring.
·         Optional Hydraulic configuration
Made in USA

Details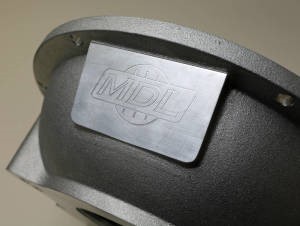 ·         Fig. 1: MD-401-2109 Flathead adapter
Improved adapter over existing adapters  – Existing adapters are designed for S10 T5 transmissions with their under-performing gear sets, limited shifter position, and very limited availability.  The MDL Flathead adapter interfaces to Ford T5's which are readily available in the used market, as well as, new.  More choices are available as the adapter also supports the TKO series transmission.
·         Compatible with:
  1932-1948 Ford Car
  1949 Truck
  1949-50 Mercury Car
Fig. 1: MD-401-2109 Flathead adapter
·         Direct fit to 59 Series blocks
The 1932-1948 Ford cars sported a 59 series block where the transmission bolted directly to the block. The MDL MD-401-2109  Flathead adapter is compatible with this configuration.
·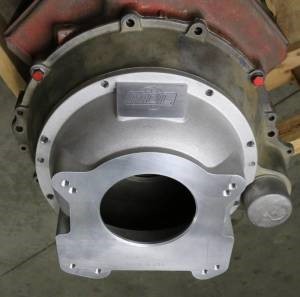 Direct fit to 8 series intermediate ring
The 1949 Truck and 1949-50 Mercury cars used 8 series blocks where an intermediate ring was used between the block and the transmission. Our adapter bolts direct to this ring with included hardware.
·
Fig. 2 bolted: Flathead adapter bolted to a Flathead intermediate ring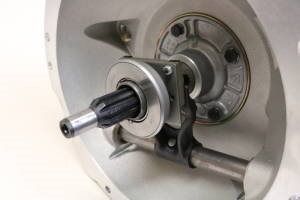 Compatible with modern diaphragm clutches
The adapter and kit were designed for modern clutches rather than the old 3-finger design resulting in smoother, lighter pedal feel. Whether using the mechanical linkage or upgrading to hydraulic actuation, you are ensured of smooth clutch engagement.
·
Fig. 3: Shaft, fork and throwout bearing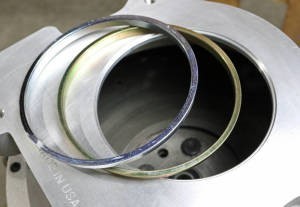 Adapts to Ford T5 or Ford TKO
Typical Flathead engines are low in horsepower but high in torque. The T5z is a perfect match for these engines. Coupled with our Front Shift T5,  the combination works beautifully in your 30's to 50's HotRod without notching the seat or pushing the engine forward to accommodate a stock Ford T5. Wanting even more torque capacity than the T5 offers? Now you can install a TKO-500 or TKO-600 behind your Flathead.
·
Fig. 4: Alignment rings adapt to T5 or TKO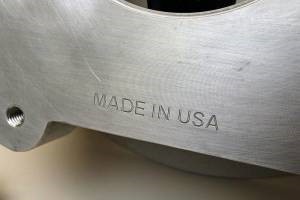 Made in the USA
The MDL Flathead adapter is cast and machined in the USA. No more concern about questionable sources and quality of the adapter. The adapter is cast here in the United States and then CNC machined for repeatable quality.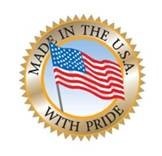 ·
Fig. 5: Proud to keep it local
          Want to run it with factory clutch linkage?
No problem!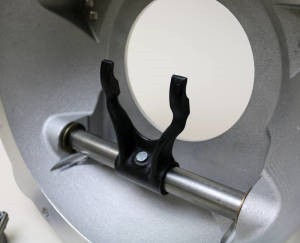 ·         Want to run it with a hydraulic clutch release?
No problem!  Complete kits are available for the configuration you desire. Rather than buy parts you don't need or not all the parts you do need when you buy from MDL you get the kit specific to your application. T5 and TKO kits differ in the alignment ring to align the transmission to the adapter/crank. Mechanical linkage kits or hydraulic kits differ in the linkage portion.
A mechanical linkage kit includes:
  adapter
  cross shaft
  bearing fork
  throwout bearing
  appropriate alignment ring for the T5 or TKO transmission
Fig. 6: Flathead adapter with fork and cross shaft
An adapter hydraulic kit leaves out these mechanical pieces and allows the addition of an internal hydraulic release bearing (ordered separately) where the hoses route through the casting where the cross shaft would have been.
A typical complete solution may contain the following:
·         MDL Front Shift T5
·         MDL Flathead adapter kit
·         Lightened Billet Steel flywheel
·         Organic 10″ clutch
·         Trans mount
·         Shift lever, ball, and boot
·         Installation hardware
·         Speedometer cable and gear
·         Transmission fluid
·         Driveshaft with a yoke
 Thirty's and forty's hot rods are a perfect match for a Front Shift T5 behind a Flathead V8
 Flathead Adapter cross shaft and fork assembled into the adapter
---
---
 Quality you can count on from MDL
Proud to keep it local
Adapter mounted to an intermediate ring of an 8 series block
Rings to adapt to T5 and TKO transmissions
Trans and adapter ready to install onto a Flathead
Front Shift T5 with Flathead adapter
Ready to install!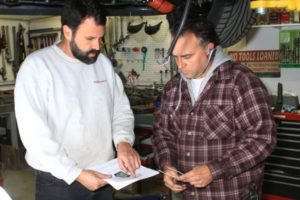 Enthusiasts Who Are Also Engineers
This is why you do business with Modern Driveline. We are not a large company with huge product development teams with bean counters and Wall Street investors looking over our shoulders. We are automotive enthusiasts bent on getting our products right before they're ever sold to the public. We are also very determined to deliver great technical support after the sale. As a Modern Driveline customer, you will never be our guinea pig. We find problems before they get to you and solve them before they ever become a headache for you.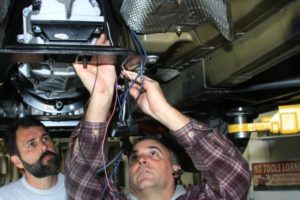 We don't just find the fault — we find the fix at the prototype phase before products ever reach the mass production phase. And if you ever encounter a problem with any of our products, we invite your contact so we may solve it before it ever becomes a frustration for you. If there is a problem after the sale, we are here to provide lifetime technical support for any Modern Driveline product you buy.
If you're looking for more information or a quote for your project send us your details and we'll get back to you with a quote. 
Or for more immediate answers call…208-453-9800