Here's How… 1979-93 Fox Mustang Hydraulic Clutch Install in a weekend
At Modern Driveline it has always been our goal to make the going easier, more fun, and certainly efficient for special interest car enthusiasts around the world.
Our business foundation has long been Ford's legendary and timeless Mustang. And that's because our core passion as enthusiasts has always been Mustang.
We've invested an enormous amount of time developing our new 1979-93 Fox Mustang hydraulic clutch kit as an added complement to our new T-56 Magnum six-speed, heavy-duty TKO, and original T-5 five-speed for the fabulous Fox. To say this research and development has been challenging is putting it mildly. We had what we believed was a solid working system. However, we've found variations in Fox Mustang firewall stampings and pedal support structure, which made it necessary to revise this low pedal effort hydraulic clutch system to where it was easy and enjoyable to use in all Fox Mustang applications. The challenge was formidable. We want the challenges here at Modern Driveline — not in your garage.
Introducing the 1979-93 Fox Hydraulic Clutch System for one of the most popular Mustangs in history. Our system works with both external and internal clutch slave cylinders, both available from Modern Driveline. We're going to show you how easy this system is to install, then, invite you to take it for a test drive for the easiest clutch modulation and shifting you've ever done in your life. Our 1979-93 Fox Mustang hydraulic clutch development has been performed on two Mustang engineering mules hence the two colors visible in this installation article. Count on excellent fit and minimal adjustment when it's time to tackle your Fox Mustang hydraulic clutch project. If you have any questions our world-class tech support team is here to serve you.
Tools For The Job
          You're going to need:
Electric Drill (3/8")
5/16" Drill Bit
SAE Allen Wrench Set
10mm, 12mm, 13mm Open End/Box End Wrenches
½" Open End/Box End Wrenches
½" Socket Wrench, 3/8" Drive Ratchet
Vise Grips
Small Common Flat-Blade Screwdriver
Silicone RTV Sealer
Loctite
A reliable friend
Safety is always our highest priority at Modern Driveline. It should be your first thought when you step into the garage to install our Fox Mustang Hydraulic Clutch Kit. Always support your vehicle at the frame rails with heavy-duty 2 or 3-ton capacity jack stands, and never with a hydraulic jack. Never trust your life to those dated stamped steel tubular jack stands, which can fold and collapse. Check the vehicle and jack stand security before going underneath your Mustang. Always wear ANSI-approved safety glasses and/or a face shield. Wear proper gloves to protect your skin from hot surfaces and corrosive fluids.
Before getting started on your Fox hydraulic clutch conversion from Modern Driveline disconnect the battery negative cable. Because we have paid close attention to detail developing this kit for easy installation most of what you're about to do can be performed by feel and can be accessed from just above the accelerator pedal. You don't have to remove the steering column or pedal support.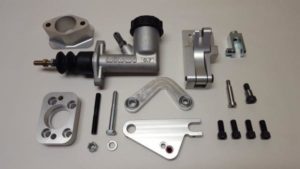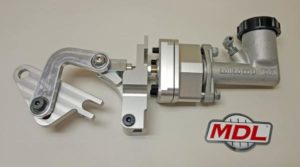 Modern Driveline's 1979-93 Fox Hydraulic Clutch Conversion Kit has been engineered for ease of installation and use. Clutch master cylinder secures to the firewall via a cool billet aluminum adapter.
Pedal to master cylinder linkage employs extraordinary "light pedal" geometry that eases pedal effort.
Following our step-by-step instructions carefully you will be able to install this system in a weekend.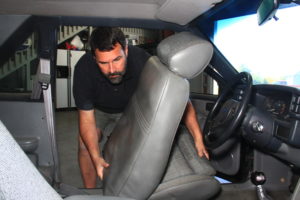 Once you have disconnected the battery remove the driver's seat for easier under-dash access.
Remember — there are seat electrical connections in a number of Fox Mustang applications that must be disconnected.
You don't have to remove the seat, but it makes installation a lot easier.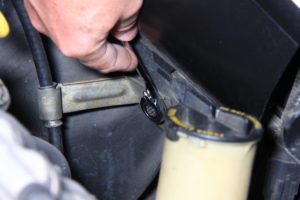 Factory clutch cable is disconnected at the bracket and frame rail as shown.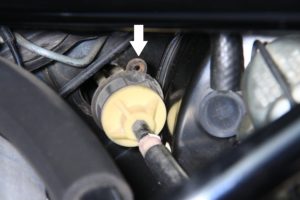 This is where the clutch cable passes through the firewall above the accelerator pedal.
Remove the clutch cable firewall mount by removing the hex-head sheet metal screw with an 8mm socket.
Inside insulation will have to be trimmed and body sealant removed in this area to make way for your Modern Driveline clutch master cylinder linkage.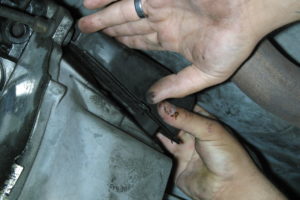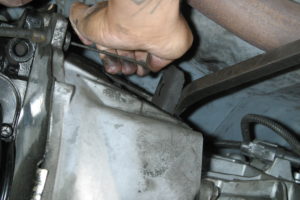 Remove the clutch fork dust cover. Have a helper lift the clutch pedal to relieve tension on the cable here at the bellhousing and clutch fork.
If cable release proves difficult you can bear forward against the fork to relieve tension.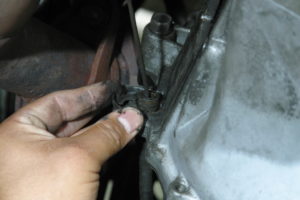 Disconnect clutch cable assembly from the bellhousing as shown by removing the C-clip.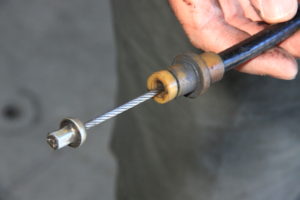 This is the unattached clutch cable end, which has been removed from the bellhousing.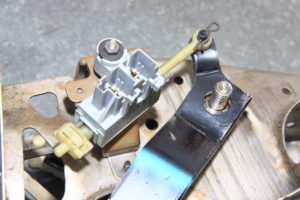 This is the clutch pedal safety switch, which prevents engine start unless the clutch pedal is depressed. This switch must remain installed and be functional.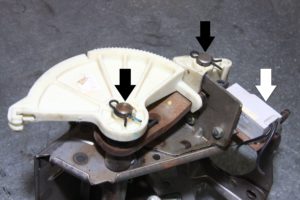 This is the self-adjusting factory clutch cable quadrant. Shown here are three components — cable quadrant and self-adjustor (black arrows), and the "CPP" or Clutch Pedal Position switch, which also disengages cruise control on five-speed Mustangs when the clutch pedal is depressed.
The CPP switch is mandatory and must remain operational for your safety.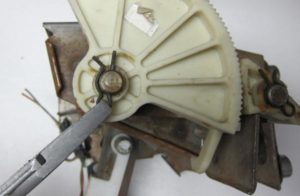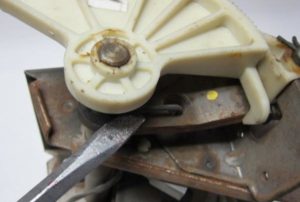 Using a pair of pliers, remove the clutch cable quadrant retaining clip and place a flat blade screwdriver tip underneath the plastic quadrant for removal.
It will come off easily.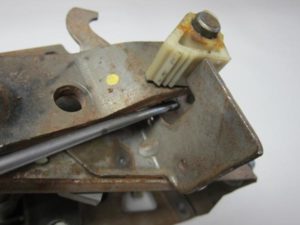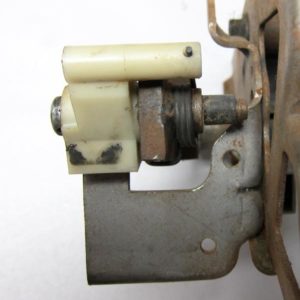 Using a long thin flat blade screwdriver, pry the self-adjuster spring from the pedal support.
You can cut this nylon gear through the firewall from the engine compartment.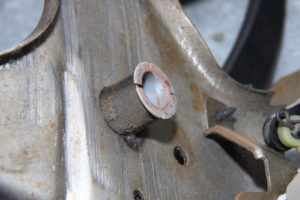 This is the best time to replace clutch and brake pedal bushings, which are available from Modern Driveline. Lube these plastic bushings with white grease.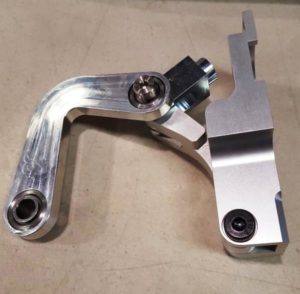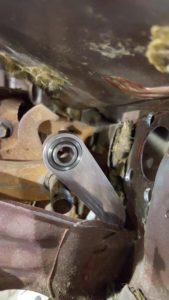 Pre-assembled Modern Driveline inside clutch pedal linkage is positioned behind the firewall.
Here's the initial push lever position as it should look.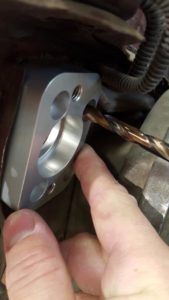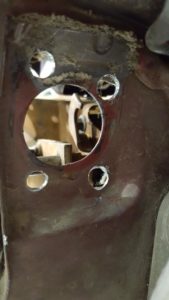 Using the Modern Driveline clutch master cylinder mount as a template drill the three existing holes out to 5/16-inch. Add the fourth hole also using a 5/16-inch bit. You can take these holes out to 11/32-inch for easier installation. A 'Unibit' may also be used to get hole sizing exactly where you want it. Take care not to drill these holes too large.  
This is what your firewall should look like once all four holes and the center register opening (former clutch cable pass-through) are set up.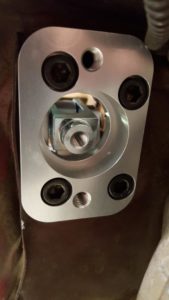 Apply silicone sealer to the engine side of the firewall and install the four provided Allen head screws from the engine side.
Secure inner and outer billet firewall plates. Plates must be registered on the unaltered clutch cable pass-through hole in the firewall.
Plates must be centered directly on this hole or failure can result. Remove any excess sealant. Clutch master cylinder clevis is visible through the base-plate.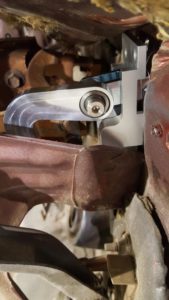 Behind the firewall above the accelerator pedal, your Modern Driveline clutch linkage should look like this.
The linkage end link is tied to the clutch master cylinder on the engine side of the firewall.
Continue pushing up on linkage until plate falls into place.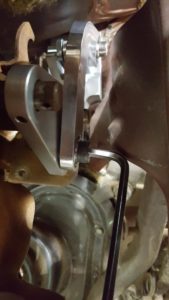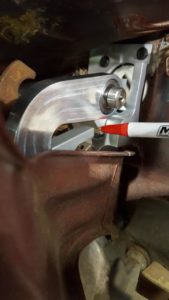 The clutch pedal plate is fitted with set screws, which are pre-installed until they nearly protrude into the hole. This will save you time under-dash and make installation easier. For access to these set screws, the clutch pedal will have to move to various positions. Pins on the factory clutch pedal arm are not even.
Position the plate with the threaded hole DOWN and loosely position on pedal pins.
Raise the clutch pedal and attach the lower hole in the push lever to the threaded hole in the clutch pedal plate using the 3/8" shoulder bolt. Leave just enough room to use the Allen wrench on the shoulder bolt.
Do not push the lever all the way down on the clutch pedal pins or pre-loading will occur. Use 'Loctite' on set screw threads and tighten.
The forward-most end of the clutch lever must not interfere with the push lever.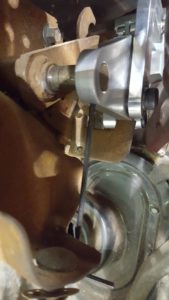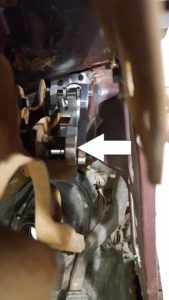 Align the clutch release plate to where it is parallel with the inner edge of the clevis at the firewall plate.
Push the clutch pedal ALL THE WAY DOWN to tighten the rear set screw — then, all the way UP to tighten the forward set screw.
The push lever must be as STRAIGHT as possible.
Do not scale the location of the clutch pedal release plate on the pins. Each vehicle is slightly different, so expect differences.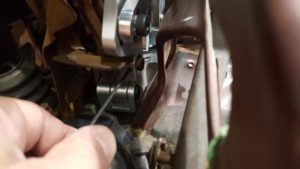 Clutch pedal is in the UP position. Tighten the forward set screw.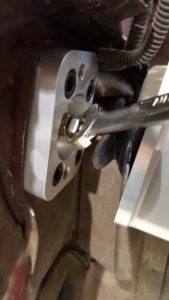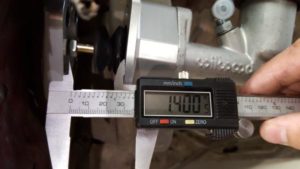 The clutch master cylinder is tied to the pre-assembled under-dash linkage via this threaded rod and clevis, which are adjusted to position the master cylinder and base-plate exactly 1.400-inches apart.
Once you have achieved this dimension lock the nuts down.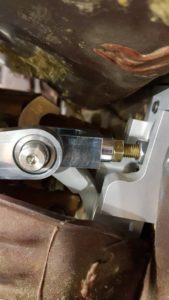 The adjusted clutch master cylinder to clevis connection behind the firewall.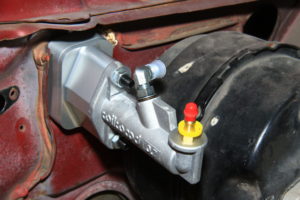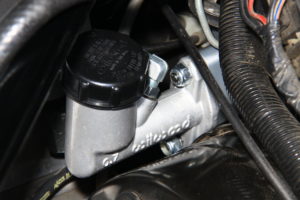 Clutch master cylinder studs are installed and secured. Our clutch master cylinder clears the toughest of applications including Cobra power brake booster.
You can configure your Modern Driveline/Wilwood Fox/SN-95 clutch master cylinder two ways — remote reservoir or integral depending upon personal tastes and requirements.
Our 1979-93 Fox Hydraulic Clutch system is compatible with any of our slave cylinder packages.
This is our internal slave/release bearing combo', which is compatible with nearly every manual transmission we sell and service.
Our internal clutch slave/release bearing is optimum for tight installations where space is at a premium.
Because this 1988 Mustang GT test mule is fitted with our T-56 Magnum six-speed.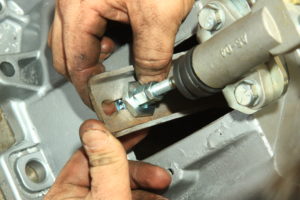 This is our LF Series external hydraulic clutch slave cylinder, which bolts onto your cable-style small-block bellhousing with minimal modifications. Clutch fork becomes a pusher instead of the cable pull style. All you have to do is install and bleed the slave cylinder, then, adjust the clutch.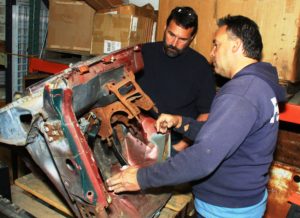 At Modern Driveline, we're passionate about what we do, which is why you're getting the best hydraulic clutch package in the industry for your classic Fox Mustang.
We spend considerable amounts of time developing our products. Because we are enthusiasts we use what we develop and sell on our own vehicles.
Our systems are real-world tested in order to find engineering weaknesses before they reach our customers.

Because your time is valuable to us we're going to set you up with great products and should you need it technical support service.
We welcome your business and your loyalty.  
208-453-9800     //    moderndriveline.com