Description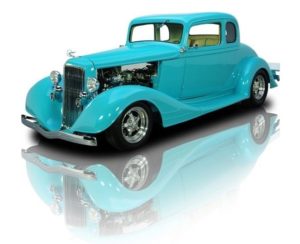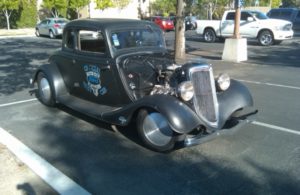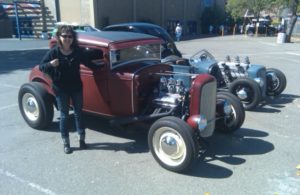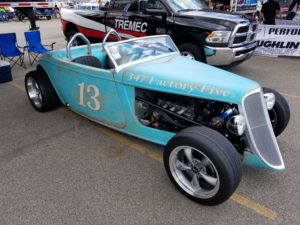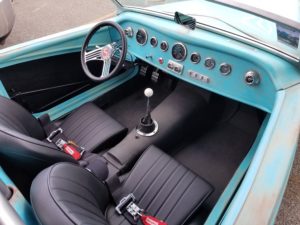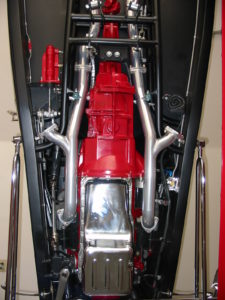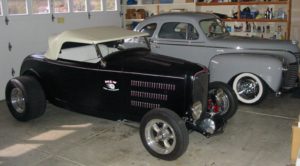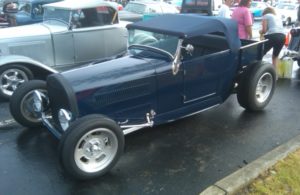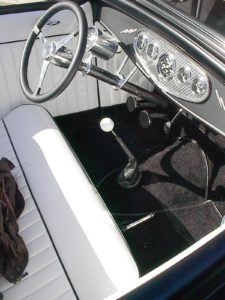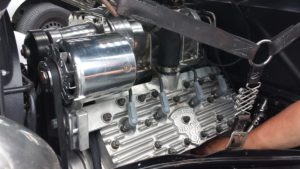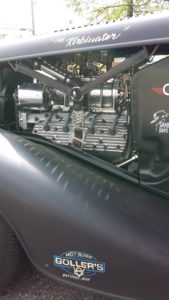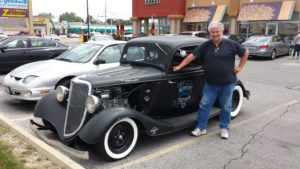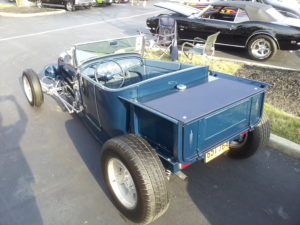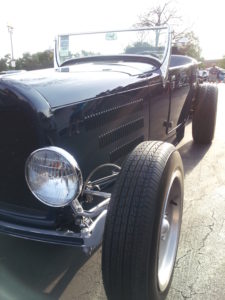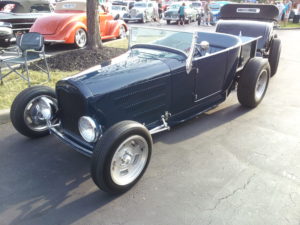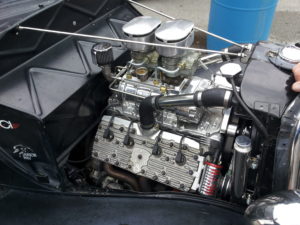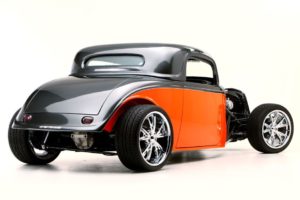 ---
---
Modern DriveLine

makes it easy to put a stick back in your hotrod where it belongs. 
---
Anyone that has built or drives a hotrod can tell you for years it just easier to install an automatic in a Hotrod. No linkage to fuss with.  Well MDL is here to change that.  We believe that hotrods should have three pedals. Whether you are driving a 32 Ford with a Flathead in it or a blown big block, we have the right five-speed for your Hotrod or Street Rod.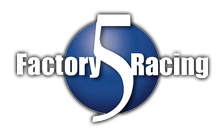 Whether it's Vintage tin or a new Kit
Experience the MDL Difference,
We extend the manufacturer's warranty by an extra year… and that's from the date of install.
We offer the best in the industry customer service.
When you purchase a complete MDL Conversion Package you get, life-time technical support.
T-5 Five Speed Single Overdrive solution.
For Hotrod making under 450hp, the T-5 five-speed is a great platform to look at.  The small case it fits in tight places.  With the many different bellhousings and adapter, the T-5 can be bolted to inline 4 and 6 cylinders, Flathead V8s, Y-blocks, small-block Ford and Chevys, Mopars.  The question is what can't we bolt it to?  See our list of bellhousing and adapter.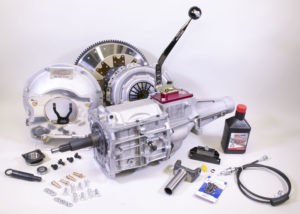 MDL solved the issue of shift position with our line of offset shifters to move the lever up to 2″ from shifter pivot points.  With the Mustang T-5 long shift box, we can offer two-shift pivot locations front and rear sockets.  Couple this with an up to 2″ offset shifter stub front/back and left/right, a range of 5″ can be achieved from standard Mustang tail-housing.  Cars and trucks of the '20s and later, the shifter needs to be a lot further forward to clear the seat.  MDL tooled up and build a front shift tail-shaft housing that bolts to the WC T-5z.  We used the same shift box of the Mustang housing to give us the same flexible 5″ range.  Measuring from the rear-block surface to the shift lever base, a range of 16.5″-28.3″ is available.  We are not done yet; we offer a complete line of shift lever handles to further fine-tune the shift knob position to make your Hotrod comfortable and fun to drive. 
TKO500/600 Five Speed Single Overdrive Solution.
If you are building big power in your hotrod, The Tremec TKO is the next step up.  The TKO series five-speed offers an impressive array of flexibility features including multiple shifter locations, long and short input shafts, gearing options, and speedometer pickups. Serving up to 600ft/lbs. or about 800hp tire melting torque capacity.  The TKO500 or TKO600 has the same transmission bolt pattern as a wide pattern Toploader.  With the short shift kits, we offer, it can bolt bolted directly to the 3 or 4-speed bellhousing or scatter-shield.  If you have a Ford narrow pattern bell-housing and wish to keep, our MD-401-2111 adapter plate solves this problem.  Don't have a bellhousing?  For small-block Ford V8, we offer an aluminum TKO bellhousing that the TKOs bolt directly too.  If your needs are requiring a scatter-shield, we offer a complete line of QuickTime scatter-shields for just about every Ford motor every produced.   TKO Bellhousings 
TKO offers up a three-shift socket position to meet your need. Out of the box, the TKO has the shifter at the rearmost position at 26″ from the block.  With just turn of a wrench, the six-mounting bolt can be moved to turn the shifter around placing the shift stub at 23″.  With MDL offset shifters stub, we can place the lever up to 2″ from each socket position.  The most forward position available Tremec calls a mid-position as the front shift position on the top cover is no longer available.
MDL offers a Mid shift kit that replaces the mid-top cover.  A replacement lug is required and it is part of our kit.  The mid-shift kit also includes a rear position cover.
When installing a mid-shift kit, the rear rail is disconnected make the cruise control shut off switch disabled.  
TKO comes in different gear ratios.
The TKO500 is the same as the old 3550/TKO with a 3.27:1 first and a .68:1 OD.  This ratio is great for those with trucks or has a rear-end ratio that is on the taller side (3.0-3.25:1 assuming 26-27″ tires) with no plans to change the ring and pinion.
The TKO600 is equipped with a 2.87:1 first gear and two different overdrive ratios.  Depending on the engine setup, most folks are looking to compensate for 3.73-4.11:1 axle ratio and want a 36% overdrive or .64:1 OD.  If the motor cannot cruise at such a reduced rpm, a .80:1 ratio 20% overdrive is available.   
T-56 Magnum Six-speed Double Overdrive
The Tremec Magnum six-speed is the big dog in the family overdrive transmissions.  Built on the OE TR6060 platform, the Magnum was designed for the aftermarket with the same flexible features found in the TKO.  The Magnum is a double overdrive transmission that can be rated for 700ft/lbs. or about 1000hp.  Available in two gear ratios of either a 2.97 or 2.66:1 first with either .80/.63:1 or a .74/.50:1 overdrive 5th and 6th gears.  Magnum is the largest of the transmission due to it brute strength rate so fitting one in the hotrod can be challenging.  With a shift point of 7,800rpm, the Magnum is a great pairing for high revving engines like the 5.0L Coyote.  Mounting a Magnum six-speed is easy with a complete line of aluminum and steel bellhousings offered.   We recommend a hydraulic clutch release for a light pedal effort and maximum clearance.  MDL offers lots of swing and floor mounted pedals with internal slave cylinders.  We can help you with a selection of clutches to make your ride smooth and reliable.  
T-56 Magnum Six-speed transmissions
So before you decided on just slapping an automatic into your next Hotrod, give us a call. 
---
Whether you are converting from Auto to manual or just want an upgrade, we have a solution for you.
We can supply everything you need from the back of the block to the driveshaft.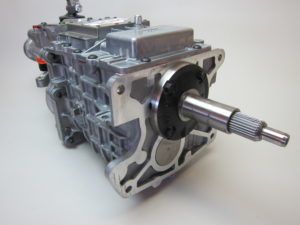 Experience the MDL Difference,
We extend the manufacturer's warranty by an extra year… and that's from the date of install.
We offer the best in the industry customer service.
When you purchase a complete MDL Conversion Package you get, life-time technical support.
You will have to select a clutch matched to your horsepower & use if you need help request a quote below.
Solutions are TAILORED to your needs with many or all of the following:
TREMEC 5 or 6-Speed Transmission with Shifter
All Fastening Hardware   ARP bolts available for the Pressure plate
Aluminum or 'QuickTime' Steel Bell-housing
Superior Diaphragm Clutch or McLeod or Tilton Twin-Disk matched to your horsepower and usage.
Modern Driveline U.S.A. made Lightened Billet Steel Flywheel
U.S.A. made Steel Cross-member
Transmission Mount
Wiring Harness & Plugs
Shift Ball & Lever and Boot
Hydraulic Master and Slave clutch linkage
Synthetic Automatic Transmission Fluid
High-Speed Precision Balanced Aluminum or Steel Driveshaft
Detailed Installation Instructions and Lifetime Tech Support
The MDL conversion packages are as complete as possible.
You get ALL the components you need where competitors packages provide only the basics.
When comparing costs be sure you are comparing apples to apples on the contents, quality & after the order service.
Components are IN STOCK
Please call for a customized Quote for your Requirements.
  208-453-9800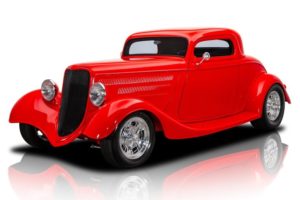 Click here to Shop FORD T56 Magnum 6-speed
Additional information: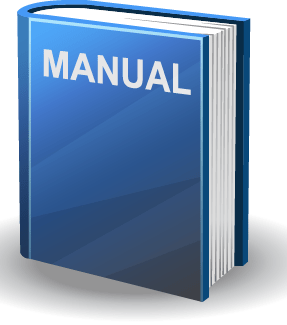 T56 Service Manual
.