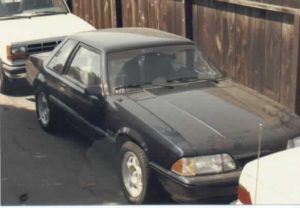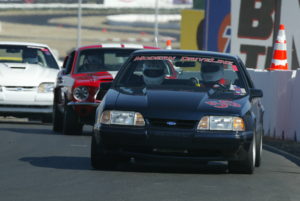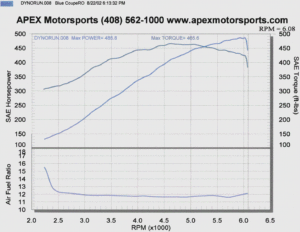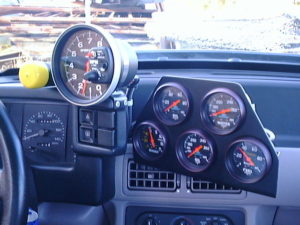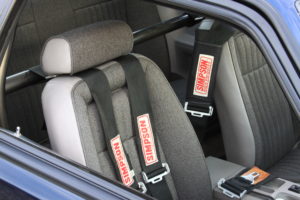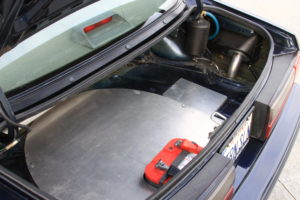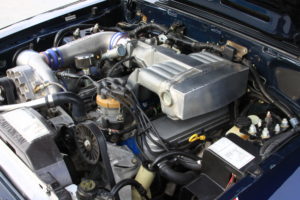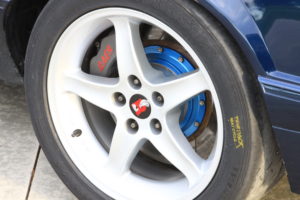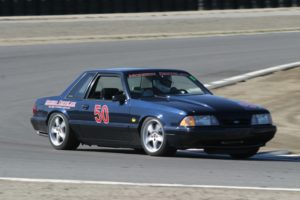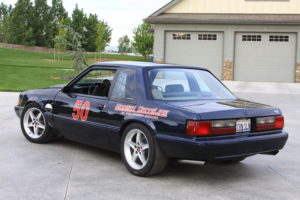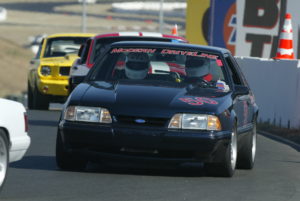 Pure Notch Facts
1992 Mustang LX Coupe
327ci Small-Block Ford V-8 Stroker, A4 Block
486 horsepower with 465 ft/lbs of torque rear wheel
Modern Driveline/TREMEC T-5z Five-Speed with .80:1 Overdrive
Ford 8.8-inch with 3.55:1 Gold Track and 9-inch Flanges
Baer Four-Piston 14-inch Front Disc Brakes
Baer Four-Piston 13-inch Rear Disc Brakes
1995 SVT Cobra R 17-inch Five-Spoke Wheels
Hoosier 275/40-17 All Four Corners
Factory Twilight Blue Paint
Original Interior
The '92 Coupe Blue Mustang is mentioned around the office a lot and referred to customers quite a bit too. It's a testament to T5's and their versatility, but there is so much more to this car.
This car started life as a special order item with Don Rositch.  Don knew he wanted a notchback coupe as they were stronger and lighter than the hatchback models.
So in 91, Don ordered the car as a daily driver and weekend toy.  Well, the was build on the first run day with serial number 000093.  While Don owned the coupe, he performed a number of updates to the car like Wilwood Brakes and Vortec supercharger, Grigg Racing suspension, autometer gauges throughout.
The car was driven to and from work in the bay area and open tracked on weekends with the Norcal Shelby club.  In about 94-95 time frame Don sold the car to Charlie Bruno who took the coupe to the next level.  Off came the Wilwood brake in place of the biggest brake system Baer made at the time for 14″/13″ rotors and four-piston calibers.  The Nissan 300zx wheels would not fit over the new brake system so on went the 95 Cobra R wheels that just clear the massive brakes.  The stock 92 T-5 was replaced with an MDL enhanced T-5z five-speed equipped with a 2.95 first gear and .80:1 OD.
I purchase the car in 2001 when Charlie Bruno passed away to become my personal Open track car.
The motor was tired and need to be placed with an A4 block four-bolt main 327 stroked short block.  A Kevlar 10.4″ Modern Driveline clutch handles the +500hp at the crank.
In recent years the car has seen track duties are Northern CA and OR tracks and is a lot of fun to drive at speed. 
Several safety items have been added to like a four-point roller bar and five-point seat belts and racing seats.
Pure Notch!
Modern Driveline's Bruce Couture straps this '92 Mustang LX coupe to his backside to live a dream and relive the memories of a great friend.
Text & photography by Jim Smart
To understand this slippery Mustang notchback's purpose you'd had to have known the late Charlie Bruno of Charlie's Mustangs, a Bay Area institution for many years. Charlie Bruno was the "go-to" guy for just about anything that sucked, squeezed, banged, blew, and rolled with great fury. He was a highly educated engineering genius who passionately knew how to conceive, build, and fix anything. His death from a sudden and massive heart attack some 15 years ago was a huge shock for the many who knew him. He died doing what he loved most — tinkering with Fords in his suburban San Francisco shop.
Of the many enthusiasts who knew Charlie, Bruce Couture of Modern Driveline could count himself among Charlie's closest friends. Bruce's knowledge of Mustangs grew dramatically from knowing Charlie. In fact, Modern Driveline's roots can be traced directly to Charlie's great knowledge and respect for Bruce.
"I remember seeing this '92 Mustang LX coupe for the first time at a NorCal Shelby Club event long ago before Charlie passed," Bruce tells us, "Don Rositch, who bought this car new, pulled into the parking lot for a club meeting. The car was striking in Twilight Blue sporting Nissan 300ZX turbo wheels." Bruce saw Don's notchback as decidedly unusual. It was a notchback when so many people had hatchbacks and convertibles. It was Twilight Blue when so many were every color but. "Don wanted the LX coupe because it was the lightest and strongest Mustang body available," Bruce reflects, "The car served two functions — everyday driver and weekend racer."
"It wasn't long before Don installed a Vortech blower, Wilwood brakes with five-lug wheels, subframe connectors, and more," Bruce adds, "Don drove this car to and from work, then, drove the many road courses here in the west — Portland, Button Willow,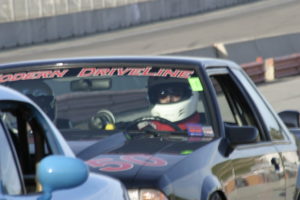 Sears Point, Laguna Seca, and a host of others." There came a point where Don needed cash to buy a home. Because Don was working at Charlie Bruno's shop, it was only natural ownership pass from Don to Charlie. The two continued to work on the Mustang together. At the time Charlie had 15 vehicles and surely didn't need another one. However, it was Charlie's belief a motor vehicle was a hole in the pavement in which to pour his abilities.
Charlie took Don's Mustang to the next level as a full-blown all-out track car. Wilwoods were replaced with larger Baer four-piston 13- and 14-inch binders — huge for the time — still huge today. With larger brakes came larger '95 SVT Cobra R wheels.
In true Charlie Bruno style went a Griggs Racing suspension, large Autometer gauges, four-point roll bar, five-point Simpson harnesses, special sheet metalwork, and more. Charlie lightened the load by removing anything unnecessary to racing — heater, air conditioning, windshield wipers, even the steel bumpers. Removing power windows was a ginormous pain that didn't happen. Don and Charlie had the Mustang track ready and good to go. Despite Charlie's efforts and vision for the Mustang, there was never time to take it racing. It rarely saw a racetrack.
The day finally came. The place — Laguna Seca. The coveted NorCal Shelby Club was ready for action. The Bruno/Rositch Mustang was warmed up and ready. "I was attending this event to open track my '88 Mustang GT," Bruce tells Mustang Driver, "Charlie had done some work on my GT." Hours passed. Charlie was a no show. Always taking care of someone else's needs. Bruce decided to take the Mustang out for a little road work around Laguna Seca. He got the thumbs up and got on the gas with some aggressive shifting and focused driving. "I was excited to finally get behind the wheel of this beast," Bruce comments, "Since this was not my car, I decided to take it easy and enjoy the car for several laps."
As Bruce made his way around Laguna Seca and its challenging asphalt he grew used to the boosted 5.0L engine and new Baer brakes. "Compared to my '88 Mustang GT, the LX was as close to a racecar as I had ever seen," Bruce adds, "In the middle of that session, I came up behind a '96 SVT Cobra and a Volvo T5 heading into Turn 11. The corner worker shock the passing advisory flag. The Volvo driver motioned with his left hand to pass. As the Cobra made the inside turn, with me right behind him in tow, the Mustang was in third gear. I was waiting for the Cobra to finish the turn and I had an itchy right foot." Bruce got on the throttle and the Cobra became a distant memory. "Meanwhile I kept an eye on the flagger because three-way passing was not permitted and I was sure I'd be black-flagged. To my surprise, I was not flagged. I finished the session and rolled into the paddock where Charlie's guys were waiting," Bruce adds, "The track steward was asked why I wasn't black-flagged for the pass. The track steward said the pass was made safely and under control — a statement of how well the Mustang was set up."
Years would pass with the Mustang occasionally taken out on the track from time to time. Charlie would sometimes allow key customers to take the Mustang to open track events when their own open tracker car was laid up in his shop for repairs and tuning. The Mustang's Vortech supercharged 5.0L engine was well worn and in need of rebuilding. Charlie being the friend he was to many, the Mustang sat while he focused his energy on the needs of others.
When Charlie passed unexpectedly Bruce became very committed to getting Charlie's notchback running again. The Mustang needed a good home and Bruce had the resources to make it happen. Bruce's Mustang LX became a rolling tribute to a wonderful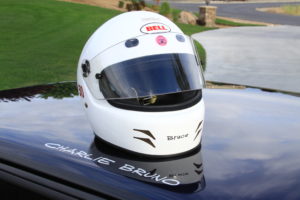 friend. Charlie had been saving a special short-block for the Mustang. It was one of the valuable A4 blocks with a Mexican crank. When Bruce got the Mustang running again, he hauled it to Laguna Seca and drove it around the track in Charlie's memory. NorCal Shelby Club members observed Bruce's driving performance and took the time to remember Charlie Bruno — a great friend to many.
Bruce and his family have since left the Bay Area and moved to Boise, Idaho enjoying a slower pace and the pleasures of Idaho living.
"There isn't a time I visit Modern Driveline and the Couture family that Charlie Bruno's name doesn't come up. Bruce speaks of Charlie with deep emotion remembering an extraordinary friend who comes but once in a lifetime."