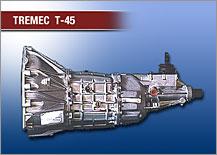 The T-45 five-speed overdrive transmission was developed primarily for high-performance cars with relatively high-engine torque requirements but is adaptable to other light-duty applications such as sport utility light trucks.
Product Run
1996 – Feb 2001 Ford 4.6L Mustang
The Borg Warner T-45 was introduced in 1996 when the Ford 4.6L Modular motor was released.  These transmissions were only used behind 4.6L single and dual over head Mustangs from 1996 to 2001.  TREMEC, in 2001, replaced the T-45 with the TR-3650 which is very similar in design.  Added strength comes from a 31 spline main shaft and front loading case.  The T-45's design is very much like the T-56 six speed transmissions.  In fact the T-45 and T-56 share many of the same parts.  It has single rail gear selector and carbon lined steel synchro rings making it a smooth shifting transmission at high rpm's.  The gears are larger and stronger then a T-5.
Since the T-45 was produced for the Mustang only 4 years, service parts are limited at this time. With an integral bellhousing design, these transmissions are limited in use to only a Ford Mod Motor such as 1996-2010 4.6L or 2011 5.0L, and 5.4L motors. We are currently look at making a front plate to replace the 4.6L bellhousing to allow these transmissions to be adapted to many other motors with the use of a QuickTime bellhousing.
T-45's from 1996-98 GT are different than the Cobra Mustangs. The transmission mount point is moved further back for the Cobras and as well as a 8 tooth drive speedometer gear. Cobra T-45's are equipped with a 7 tooth speedo gear. In 1999 all T-45's were changed to the Cobra specs. Why this was not done earlier is not understood.
T-45 shifters are the same as the T-5 shifter, therefore, any aftermarket shifter will work on both transmissions.  Borg Warner WC T-5/T-45/T-56 all use ATF oil or Synthetic ATF.  No other oil should be used.  Redline MTL should not be used.  Redline ATF is fine.  My recommendation is to use Amsoil ATF as I have used it for years at the track with great results.
Features & Benefits:

Center Distance – 81.5 mm
Overdrive in fifth gear provides extended ratio coverage
Integral clutch housing with front cover end-loading design for increased driveline bending strength
Clutch cable release fork pivot
Tapered roller bearings on main and countershafts reduce noise and improve durability
Needle bearing under 1st through 4th gears improve high speed performance and reduce shift effort
Advanced synchronizer technology:

Powdered steel formed blocker rings
Engineered friction material for improved durability
Double cone synchronizer design for lower shift effort in first and second speed gears
Patented strut-type synchronizer design for improved durability

Constant mesh, double disconnect reverse
Internal, single rail shift system
10 spline input shaft, 31 spline output shaft
Torque Capacity 400ft/lbs
TREMEC
Part Number
Ford Part Number
Model
Gear Ratio Chart
1st
2nd
3rd
4th
5th
Rev
1381-000-001
F8ZZ-7003-AA
96-98 GT
3.37
1.99
1.33
1.00
0.67
3.22
1381-000-002
F8ZZ-7003-BA
96-98 Cobra
3.37
1.99
1.33
1.00
0.67
3.22
1381-000-011
XR3R-7003-AB
99-01 GT Cobra
3.37
1.99
1.33
1.00
0.67
3.22
TNET1386
YR33-7003-AA
1st half 2001 Cobra
3.37
1.99
1.33
1.00
0.67
3.22