The Ford Torino Twister Special
The Ford Torino Twister Special is an exceedingly rare car, just 90 were ever built and only 29 are now accounted for in the Torino Twister Registry.
The most famous Twister Special is the Mustang version from the same year, both the Torino and Mustang Twister Specials were sold in very limited numbers and they're easily identifiable by the "twister" decals on the rear fenders.
Both the Mustang and Torino Twister Specials were sold exclusively through Kansas City Ford dealers.
They were the Midwest's answer to the "California" and "High Country Specials" that were sold in California and Colorado respectively.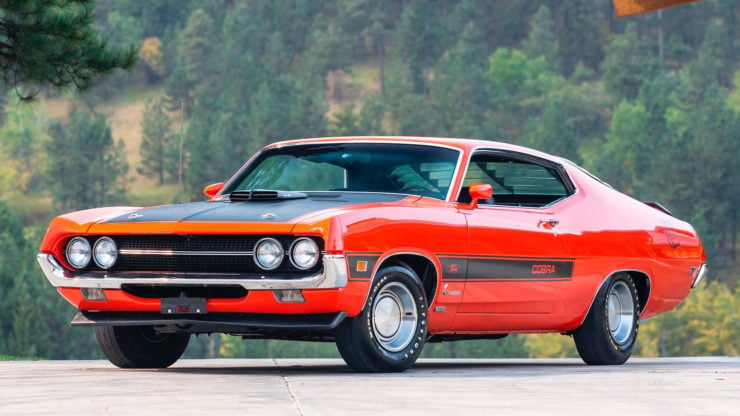 The one year only 1070 Twisters were developed by Ford to get people into dealerships, which worked, most people would order cars just not necessarily the TorinoTwister or Mustang Special
The Ford Torino was first released in 1968, it was offered as a two-door coupe, a four-door sedan, and a four-door station wagon. The model was redesigned for the 1970 model year, this new design was critically acclaimed and it was available in essentially the same configurations as the earlier 1968 and 1969 models.
These came with an impressive amount of power and featured the stunning Calypso Coral paintwork.
Few (if any) factory-built 1970 Torinos were capable of keeping up with the Twister Special version, it was fitted with either the 429 Cobra Jet or the Super Cobra Jet V8 engine producing 360 to 370 hp.
Twister Specials are known for their decals, the Torino version has black "Cobra" decals down both sides as well as a Cobra on each of the front fenders, one on the rear, and the matching Twister decals on either side of the rear fenders.
Customers could order either an automatic or a close-ratio four-speed manual transmission, just like the Mustang Twister Special.
Read about the Mustang Twister Special here
The differential was a 3.50 Traction-Lok. With no power brakes or power steering, the driving experience has been described as "interesting".
The manual version of the Twister Special is the rarer of the two, just 30 were made versus 60 of the automatic version, and many feel that the driving experience is considerably enhanced by the manual gearbox. The manual version was fitted with a Hurst T-handle shifter and they all got a louvered rear window, a black rear spoiler, and a discreet black lip spoiler.
Images courtesy of Mecum