We were a first-time exhibitor at SEMA 2019.
Although we had attended the show before we have never had our own booth until this year.
Hard work & time we have invested over the last year was well worth it as we were chosen as recipients of the SEMA ' Best New Engineered Product 2020 '.
Kevin Ostee presented us with this honor and it drives us to strive for more in our research & development of new products.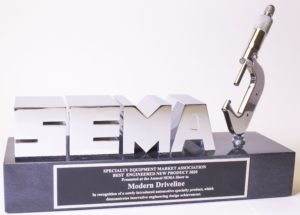 We were also lucky enough to be involved in a couple of great builds which were featured cars at SEMA 2019 this year.
This Killer '69 GT500
With our complete TKO 5-speed upgrade Solution Package.
 Featured in 'THE SHOP' magazine.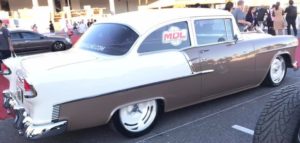 This Cool '55 Chevy
With our T56 Magnum 6-speed and Hydraulic upgrade solution.
A beautiful custom build
We had such a great Time meeting new people and networking with everyone we had opportunity to meet with.
We also enjoyed seeing some familiar faces.
The show was packed with all kinds of great builds & products
It was rewarding to see both our 5 & 6 speed conversions as well as our hydraulic solutions were in may cars at the show.
We're looking forward to Next Year already.