The second-generation Ford Mustang, marketed as the Ford Mustang II, is a two- or three-door, four-passenger, front-engine/rear-drive pony car manufactured and marketed by Ford from 1973 to 1978. Introduced in September 1973 for the model year 1974, the Mustang II arrived roughly coincident with the oil embargo of 1973 and subsequent fuel shortages.
It arrived 490 pounds lighter and almost 19 inches shorter than the 1973 Mustang, the car was starting to leave its roots and become a larger car with more luxury appointments. Not what the car was intended for. the 69-70 models grew to accept larger engines partly influenced by Ford's racing program.
The second generation was derived from the subcompact Pinto platform using a unique unibody with an isolated front suspension and engine mount subframe while sharing a limited number of chassis and driveline components.
The steering was improved from the previous generation by using a rack-and-pinion design.
In contrast to the Cougar which went from a twin to the Mustang to a car almost the size of the same year T-Bird and Lincoln continental 2-door growing in size & diminishing in popularity.
Named Motor Trend's 1974 Car of the Year the Mustang 2 reached over 1.1 million sales over four years of production.
Designers and engineers worked feverishly on a "reinvented" Mustang, mimicking the first version, by the traditional new model year introduction during the fall of 1973.
The new Mustang II returned to a size closer to the 1965 model.

The 4-year production run included model trim levels Ghia, Stallion Edition, Mach 1, Cobra, King Cobra.
It was also available in a hatchback with was new to the scene and very popular allowing for to emulate although not exactly a sport back feel.
Iaccoca's 'Little Jewel' was "the right car at the right time", It was a return to the concept of the Mustang the original Pony Car as a sporty fun affordable car. This car was just what the fuel crisis needed. with 4 cyl & V6 model out first, the V8 followed for those who wanted a little more performance from their Mustang.
1st Generation Car-guys call it small & underpowered not really a Mustang…because it's not a 1st gen car. Others, when the desire for performance came back into the spotlight with the Fox-Body Mustangs, don't think it's worth a second look.
Consider this… if you wanted to build something from a quick little streetcar to a 1/4 mile champion, this is a great platform, they are not expensive, due to production numbers there are a lot of them to be found.
The stock V8 has about 120 horsepower, but with $1,300 in mods that the same V8 can produce over 300.
Best of all are the advantages of this design, as you will see below the engine bay will accept almost any power plant, the wheel wells are ample and it's a light little car weighing in at 2,700-pounds.
With a little Moden technology its an easy build, of-course we would suggest a 5 or 6 speed to make it even more fun to drive.
1975
"With oil crisis memories starting to fade" Ford needed a V8 in the Mustang II for a return to the performance-minded buyer.
The engine bay was re-engineered to accept the 302 cu in (4.9 L) V8 option for the 1975 model year, with a revised hood and header panel.
Engines were limited to a two-barrel carburetor and "net" 140 hp (104 kW; 142 PS). Since Ford's 'Mexican division' never lost the V8, they were aa great help with the modifications.
Testing by Road & Track "recorded zero to 60 mph (97 km/h) in 10.5 seconds, and a top speed of 106 mph (171 km/h).
The Mustang II's 302 cu in (4.9 L) engine became Ford's first officially designated metric V8 Mustang;
it was called the "5.0 L" even though its capacity was 4,942 cc (4.9 L; 301.6 cu in).
Except for the optional V8 engine, the Mustang didn't change much in 1975.
The Ghia trim received opera windows and a padded vinyl half-top. Halfway through the year, a 2.3 L "MPG" model was added, featuring a catalytic converter and a 3.18:1 rear-axle ratio (standard was 3.40:1) to claim EPA-version economy estimates of 23 mpg‑US (10 L/100 km; 28 mpg‑imp) in the city and 34 mpg‑US (6.9 L/100 km; 41 mpg‑imp) on the highway.
To underscore fuel efficiency, all base 2.3 L Mustang IIs were called MPG after 1975.
The Mustang II achieved record sales for 1975, making it the 9th best selling Mustang of all time, with 199,199 units sold.
1976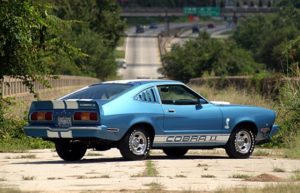 In 1976, Ford offered the "Stallion" appearance group including styled wheels, blacked-out grille, bumpers, and body moldings as well as black two-toned accent paint offered with silver, red, white, and yellow body colors. New also was the "Cobra II" appearance package with a black grille, simulated hood scoop, front and rear spoilers, quarter window louvers, dual over-the-top racing stripes with matching lower rocker stripes, and cobra emblems on the front fenders — available with all engine choices. Full instrumentation was standard. A manual moon roof was optional.
1977
The 1977 model year introduced a "Sports Appearance Group" for the Ghia model that was color-matched to either black or tan paint, as well as several minor styling changes and expanded color options for the Cobra II. Also new was a T-top option for the fastback featuring twin removable tinted glass panels. Midway through the 1977 model year, changes for the 1978 model year were pulled ahead to sell early. It is most notable on the Cobra II models where the hood scoop was turned around to seem more aerodynamic and the graphics were revised. For the decals, the over-the-top dual stripes running the length of the car were replaced with a single stripe and on the sides of the car, the snake and "COBRA II" decals were replaced with large stripes raised to the middle of the body sides with large "COBRA" lettering in the middle. Louvers were added to the hatch and the side panel louvers only came in black. All the windows and glass moldings were painted black as well.
1978
In 1978, the "King Cobra" became available. This was a limited edition version with 4,313 units produced.
 It featured a deep air-dam, stripes, and a "Pontiac Trans Am style" cobra snake decal on the hood.
The King Cobra was available only with the V8 to help bolster the car's performance image.
On the momentum of the Mustang II's successful sales, a totally new Mustang was introduced for the 1979 model year.
Here are just a few Cool examples of this 2nd Generation Mustang.
Built by Monroe Shocks and Hot Rod magazine in 1977. Starting out as a plain Mustang II, the original car had steel IMSA-style fenders by Creative Car Craft, Monroe suspension upgrades, and an engine reworked by Roush. The following year, Creative Car Craft was asked to create six more Monroe Handlers using fiberglass pieces. These six cars, plus one more built for a Southern politician (as the story goes), were not fitted with bumpers and were given away in a contest sponsored by Monroe, BF Goodrich, Centerline, Ford, Motorola, Revell, and Roush.
For Mustang II owners who wanted to build their own Monroe Handler, Creative Car Craft also sold the fiberglass pieces as a $1,250 kit, consisting of front and rear fenders, front air dam, rear spoiler, and rear air dam. As few as 30 kits were sold. Maier Racing produced similar kits, but the lighter weight made their panels more suitable for race cars than streetcars.
After Gapp & Roush worked their magic on the car, it descended upon the streets of Detroit with a vengeance. In a matter of only a few weeks, it shot down a series of big-name Bow-Tie boys running various 396-, 454- and Rat-Motor Chevys. All that was left were two Mopars: Steve Lisk's 1971 Hemi Dodge Challenger and Jimmy Addison's 1967 Hemi Plymouth Belvedere GTX (which, ironically, was known as the "Silver Bullet.").

As the Woodward Avenue street racing wars were waning in the '70s, there were but these three cars known to be the Kings of the street in and around Detroit. The "Silver Bullet" Belvedere was a true 10-second streetcar, but Lisk's Challenger and Ruggirello's "Sudden Death" Mustang II were among the first documented street-legal cars in the 9's, and as such are credited with starting the trend that would later become known as "Pro Street."
Ruggirello's "Sudden Death" Mustang II was powered by a Roush 505-cubic inch Lincoln motor capable of catapulting the compact hatchback to runs of 9.40 @ 140-plus through the mufflers!
There have been few drag racers equipped with more versatile skills as a driver and engine builder/tuner than "Dyno Don" Nicholson. He holds the record for final-round appearances in the most NHRA Eliminator categories, scoring either wins or runner-up honors in Funny Car, Pro Stock and Stock Eliminator.
The Pro-Stock Mustang was raced by Nicholson during the 1977-78 seasons. In addition to dominating the Pro-Stock ranks in the '70's, he also enjoyed numerous match race victories. This car was built for Nicholson by Don Hardy Racecars in Texas.
A modern take on this 70 era car
This Mustang embraces his Ford roots with something way out of the norm – 1978 Ford Mustang II, including a V-10 engine, six-speed transaxle, and Corvette suspension and brakes. Gasp all you want at the lack of brand loyalty, but truth be told, such Vette hardware is a darn good choice when going radical (and many aftermarket front suspension systems for Mustang use the modern Corvette bits now as well).
Of course what really counts is the heart of the beast, where a true-blue 6.8-liter Triton V-10 resides.
With a long list of custom fabricated parts, so styling cues from first-gen Mustangs and many high-performance parts make this '2' a screamer.