Tremec's new powerhouse
With a sleek all-new case.
TREMEC TKX a 5-speed RWD manual transmission developed solely for the aftermarket.
For the development of the new transmission, TREMEC engineers took a forward-looking approach to find the best and most efficient solution. This included universal packaging, excellent shifting performance, and extreme durability.
The result is superior shift-ability with smooth shifts at high RPMs using multi-cone synchronizers and hybrid synchronizer rings. At the same time, noise, vibration, and harshness (NVH) performance are optimized with a gear layout to best control stress levels, while providing structural stiffness with a ribbed, 3-piece aluminum housing.
Durability is further optimized with oversized gear widths, gaskets at all flanges, and caged needle bearings in all gear positions.
Whether restoring or upgrading a classic muscle car or a 1930s-era roadster coupe, the new TREMEC TKX 5-speed RWD manual transmission delivers a top-quality drivetrain solution.
Click here to view YouTube video: https://www.youtube.com/watch?v=EOqkR3K-Oz8
the TKX offers an impressive array of flexible features.
An all-new end loading design.
End loading design eliminates top cover & provides superior strength
A rounded low-profile case for excellent tunnel clearance
8000 RPM shifting & 600lbs/ft. torque capacity
Ford & GM Bellhousing pattern & input configurations
Rear main-shaft support bushing moved from tail closer to the gearbox provides better support.
New smaller stamped steel mid-position cover with 4 M6 x 18 countersunk socket screws.
Sintered carbon + bronze hybrid synchro rings with a non-leaning edge profile like the T56 Magnum.
New neutral switch location on the right side of the TKX with a plunger pin to connect with the rail selector.
Wider gear faces for easier torque handling.
Electric and traditional cable drive and analog OSS speedo sensors, Digital VSS available.
Multiple shifter locations.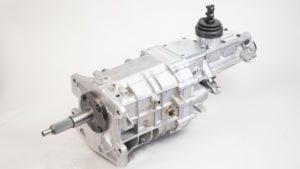 Far and away, the most versatile 5-speed on the market.
TREMEC's TKX the latest innovation to the series of 5-speed transmissions that began with its successful TKO in the 5-liter Mustang movement and has since been fitted into nearly every rear-wheel drive performance application imaginable.
Serving up 600 lb-ft of torque capacity, along with up to 8000 RPM confidence-inspiring shifts and fuel-saving overdrive.
The TKX offers an ideal blend of brute strength and street manners – which may be why it's original design TKO series manual transmissions are behind more boulevard-bruising street machines and sportsman race victories than all of its competitors combined.
It's the take no prisoners gearbox that started a revolution and has now evolved into what is TKX.
Sintered carbon + bronze-Hybrid triple cone synchros with a non-leading edge profile direct from the T56 Magnum allowing for up to 7800 RPM shifts.
Fits GM A-Bodies without tunnel modification  –  Chevelle / GTO / Cutlass / Nova /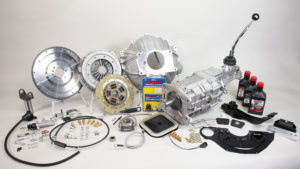 ALL NEW Endloading design which means, Greater Strength, Eliminates leaks