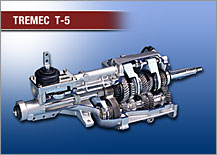 The T-5 five-speed transmission was developed for a broad range of vehicle applications from passenger car to compact sport utility vehicle (SUV) requirements.
The TREMEC T-5 has been used on various passenger car and light truck applications.
It's largest application was the Mustang GT.
Currently, it is sold to the aftermarket for modernizing classic vehicles.
Features & Benefits:

Center Distance – 77 mm
Overdrive in fifth gear provides extended ratio coverage
Aluminum die cast housings for reduced weight
Tapered roller bearings on main and counter-shafts reduce noise and improve durability
Needle bearing under 1st through 4th gears improve high speed performance and reduce shift effort
Advanced synchronizer technology

Powdered steel core blocker rings
Engineered friction materials for improved durability
Double cone design for lower shift effort
Patented strut-type design for improved durability

Sliding idler reverse for simple, reliable design
Internal, single-rail shift system
Reverse brake option allows immediate shift into reverse without clashing
Multiple shift lever locations
Adaptable to 4-wheel drive applications
Mustang Monthly article: How to Install a T5 into '65-66 Mustang
Featured car 1965 Fastback Mustang with T5 Conversion
Mustang & Fords article: T5 into '67-68 Mustang
Modified Mustangs & Fast Fords article: T5 into '69-70 Mustang

Car Transmissions:
TREMEC
Part Number
Weight
(lbs)
Torque Cap.
(lbs-ft)
Application

1352-000-208

75

175-230

Ford
5.0L

1352-000-238

75

175-230

Ford
3.8L

1352-000-239

75

175-231

Ford
5.0L

1352-000-245

75

175-233

GM
V6

1352-000-247

75

175-230

GM
V6

1352-000-248

75

175-231

TVR
4.3L

1352-000-249

75

300

Ford
5.0L

1352-000-251

75

300

Ford
5.0L

1352-000-254

75

175-230

Lotus
2.2L

1352-000-259

75

175-230

1352-000-260

75

175-230

Ford
3.8L

TTET1239

75

175-230

TVR
4.3L

TTET1544

75

220

Ford
V6
S 197

TTET1798

75

220
Ford
V6
Light Truck Transmissions:
TREMEC
Part Number
Weight
(lbs)
Torque Cap.
(lbs-ft)
Gear Ratio Chart
1st
2nd
3rd
4th
5th
Rev

1352-000-077

75

175-230

4.03

2.37

1.49

1.00

0.76

3.76

1352-000-191

75

175-230

4.03

2.37

1.49

1.00

0.72

3.76

1352-000-216

75

175-231

4.03

2.37

1.49

1.00

0.86

3.76

1352-000-229

75

175-232

3.35

1.99

1.33

1.00

0.72

3.15

1352-000-234

75

175-230

3.76

2.18

1.42

1.00

0.72

3.76

1352-000-243

75

175-232

3.97

2.34

1.46

1.00

0.85

3.71

1352-000-250

75

175-231

3.76

3.18

1.42

1.00

0.81

3.76

1352-000-255

75

185

3.97

2.34

1.46

1.00

0.85

3.71

1352-000-256

75

225

3.97

2.34

1.46

1.00

0.85

3.71

1352-000-257

75

210

4.03

2.37

1.49

1.00

0.86

3.76

1352-000-258

75

175-230

3.76

2.18

1.42

1.00

0.81

3.76

1352-000-261

75

185

3.97

2.34

1.46

1.00

0.85

3.7

1352-000-262

75

225

3.97

2.34

1.46

1.00

0.85

3.7

TNET0563

75

175-230

4.03

2.37

1.49

1.00

0.86

3.76

TTET1333

75

185

3.97

2.34

1.46

1.00

0.85

3.71

TTET1750

75

225

3.97

2.34

1.46

1.00

0.85

3.7

TTET1751

75

225

3.97

2.34

1.46

1.00

0.85

3.7

TTET1752

75

225

3.97

2.34

1.46

1.00

0.85

3.7

TTET1853

75

190

4.03

2.37

1.49

1.00

0.86

3.76