Introducing TREMEC's All-New Five-Speed transmission for 1965-04 Mustangs
By Jim Smart
Photos Courtesy Modern Driveline
Do you remember the thrill of being able to swap a Modern Driveline T-5 five-speed into your classic Mustang and how these folks made it so easy to accomplish and all in one stop?  When Bruce Couture founded Modern Driveline a couple of decades ago, he did so because he saw a genuine need for enthusiasts who wanted a five-speed overdrive transmission in their classic Mustangs.  In fact, it all began with Bruce wanting one for his own '65 Mustang hardtop.  He wanted to rip through the gears on a road course and have overdrive for the open road.
Enthusiasts saw what Bruce had done to his Mustang and wanted a piece of the action.  Bruce answered the call with a cohesive family of versatile five-speed conversion packages for 1965-73 Mustang and Cougar.  As demand grew, so did Modern Driveline's product line, evolving into five- and six-speed conversions for all Mustang generations.
When TREMEC and Modern Driveline introduced the rugged TKO five-speed transmission for classic, Fox, and SN-95 Mustangs in the 1990s, it was a welcomed sight for those with 500- and 600-horse Mustang fun cars.  The TKO was as at home in the classics as it was in the 1979-93 Fox bodies and 1994-04 SN-95s.  One issue with the TKO was always fitment in some applications.
A lot of you have been asking Modern Driveline and TREMEC for an improved fit and better performing five-speed transmission for your Mustangs.  Because Modern Driveline consists of true Mustang enthusiasts who also happen to be engineers, it seems only logical they would answer the call with TREMEC's latest and greatest five-speed box.  Meet the new TREMEC TKX five-speed transmission with real 600 ft/lb torque capacity and a dreamy smooth shift.
TREMEC's engineering team has been burning the midnight oil developing a groundbreaking five-speed transmission for the new millennium. The all-new TKX five-speed manual transmission leaves the gate with a terrific compact design, increased 600 ft/lb torque capacity, and buttery smooth shifts at high (8,000!) rpm, making it a great choice for your 1965-04 Mustang project.  The TKX is, without question, a high-performance five-speed for the Mustang generations.
But first, some background.  TREMEC's best engineers set forth a number of objectives in the TKX's bones. They wanted a vastly improved design based on the TKO transmission—including fierce durability and brute strength in a race-proven package. They wanted it to fit a wide range of vehicles and with no floor pan modifications.  TREMEC's marketing and engineering people wanted a box that would go right in without having to cut the transmission tunnel. They conceived a compact, end-loaded design to make the transmission as nearly compact as the T-5 transmission.  What's more, by having an efficient overdrive unit, engine wear and fuel consumption would be significantly better than straight-drive three-speed and four-speed transmissions found in vintage muscle cars.
Smooth Shifts
The efficient TKX delivers smooth shifts at high rpm via multi-cone, high-performance, strut-type synchronizers, and hybrid (sintered bronze and carbon) synchronizer rings. Designing in double cones at all gear changes enables power shifts as well as reduced shift effort.  You get to glide through the cogs with virtually no effort. TREMEC has designed in an interlock, which prevents erred two-gear shifts and a lot of unpleasant noise and damage. Shift travel is a minute 8.75mm through the gears. A built-in inhibitor system eliminates the risk of accidentally selecting reverse gear as you downshift from fifth to fourth gear. The TKX's gears have been case-hardened and shot-peened for strength.
Less "NVH"
As vehicle quiet has become more important, noise, vibration, and harshness (NVH) have become TREMEC's focus. TREMEC engineers designed a ribbed, three-piece aluminum main case, intermediate plate, and extension housing for structural stiffness, which greatly contributed to reduced NVH.  Their close attention to detail eliminated the potential for leaks. Expect to see gaskets at all flanges. Improved durability continues with oversized gear widths, which can now handle high-load shifts. There are caged needle bearings in all gear positions.
A ball detent is on each shift rail to improve shift feel and provide precise, smooth shifting. Simulation software optimized the size and configuration of the chamfers in the gates and selector finger, so there's no sticking between gates and shifting stays true in both normal and aggressive driving.
We're thrilled with the space-saving, smooth shifting, brute tested tough TREMEC TKX transmission from Modern Driveline.
From the people who invented five-speed conversion kits for an American icon comes a dreamy five-speed transmission Mustang enthusiast have been waiting for.
It is priced competitively compared with the proven TKO.  What's more, it will fit your Mustang regardless of generation.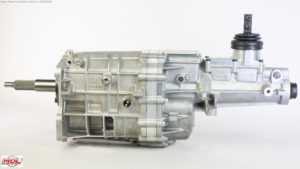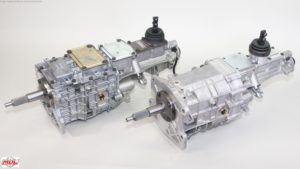 The legendary TREMEC TKO five-speed (left) with 500 and 600 ft/lb of torque capacity set the standard for brute strength in high-performance overdrive transmissions.
The all-new TREMEC TKX (right) introduces a whole new standard for five-speed performance.
It fits in all the same locations as the T-5 and TKO—only it fits better.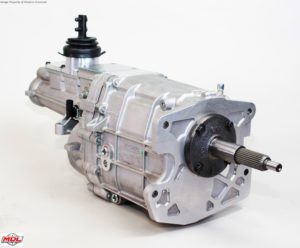 This handsome rugged box employs a fresh compact demeanor where it drops in place of the TKO using less space than the TKO.
Modern Driveline is currently developing a kit for the 1974-78 Mustang II and is pretty convinced the TKX will fit these Mustangs.

Head-on, the TKX employs bolt patterns for both GM and Ford applications.
This is a prototype TKX used for photo and development purposes.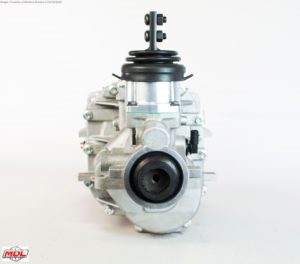 From behind, you can see the sweet compact fit of the TKX, with the shifter located where it comes right up through the transmission tunnel of 1965-04 Mustangs.
When you take delivery of your TKX from Modern Driveline, you will be amazed at the fit.

The Modern Driveline TKX has all of the same electrical connections as the TKO and T-5 transmissions.
There are also three shifter locations for a wide variety of applications.
The TKX will work with both electric and cable-driven speedometers.
That's the back-up light switch screwed into the main case.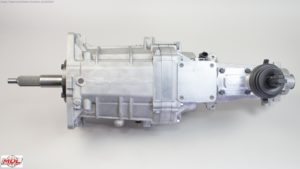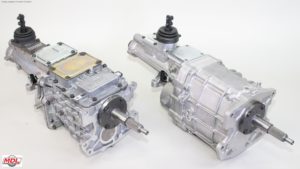 On top, you can see the difference between the TKO and the new TKX.
We like this streamlined main case that clears nearly anything imaginable.  It will fit your Mustang.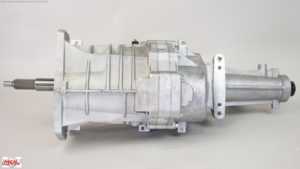 The TKX has a sexy belly that's also streamlined to where it is undetectable as you look across a Mustang's underpinnings.
It fits right onto the TKO's transmission crossmember.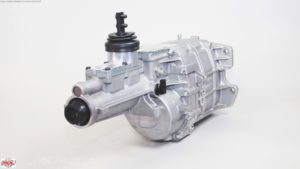 The new TKX from another angle for a close look.
That's the electric speed sensor in the extension housing.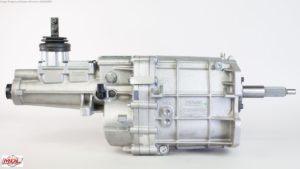 This view from the TKX's right-hand side shows the service port as well as the drain for periodic servicing.
The speed sensor is also visible. 
MT-MDL-TKX-11
This cutaway shows what makes the TKX leading-edge beyond any five-speed transmission in the marketplace.
You get extra-wide gears, caged needle bearings, advanced multi-cone synchros, and a ribbed main case for rugged dependability. 
SOURCE
Modern Driveline
208.453.9800
moderndriveline.com